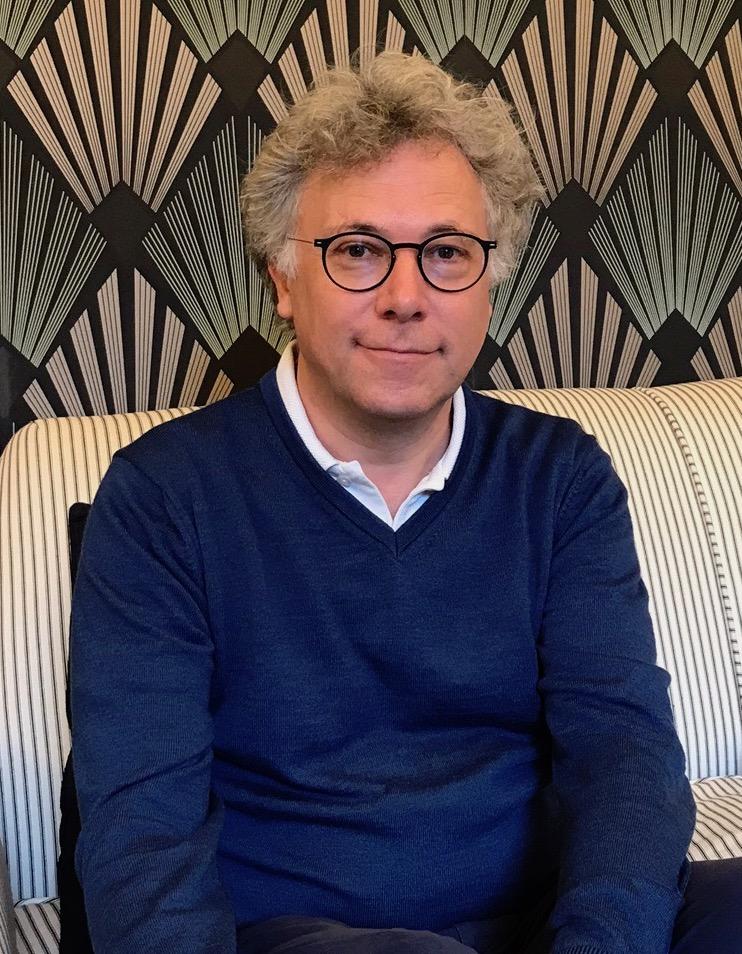 Benoît Mernier was born in 1964 in Belgium.
He studied organ and improvisation with Firmin Decerf and harpsichord with Charles Koenig. He continued his studies at Conservatoire Royal de Musique in Liège where he graduated in many subjects, including the Higher Diploma in organ in the class of Jean Ferrard, for whom he was the assistant for several years.
He also studied organ with Bernard Foccroulle and with Jean Boyer at the National Regional Conservatoire of Lille, where he obtained the Diplôme de Perfectionnement.
Along with the organ, Benoît Mernier has devoted himself to composition. In this field, he was able to profit from the counsels of Claude Ledoux, Henri Pousseur, Luca Francesconi ; Emmanuel Nunes, Bernard Foccroulle, Célestin Deliège. He studied the composition with Philippe Boesmans.
His organ work Artifices was the prizewinner of the 1990 UNESCO International Composers' Tribune. In 1995 the Royal Academy of Belgium awarded him the Fuérison Prize for his Blake Songs for voice and chamber orchestra. His Clarinet Quintet was awarded the Paul Gilson Prize of the French-speaking Public Radios in 1999.
His works have been performed in leading festivals as Ars Musica, Présences, Wien Modern, Gaudeamus, World Music Days (ISCM), Prague Premieres, and have been played by groups and performers such as the Arditti Quartet, the Ensemble Modern, the Nouvel Ensemble Moderne, the Radio-Symphonieorchester Wien, the Monnaie Symphony Orchestra, the Philharmonic Orchestra of Radio France, the Liège Philharmonic Orchestra, the National Orchestra of Belgium, the Philharmonic Orchestra of Montpellier, the Namur Chamber Choir, the Danel Quartet, the ensembles Ictus and Musiques Nouvelles, the Danel Quartet, the Trio Medicis, the Trio Fibonacci, Oxalys, and Michaël Schönwandt, Bertrand de Billy, Pascal Rophé, Jonas Alber, Ronald Zollman Pierre Bartholomée, Lorraine Vaillancourt, Patrick Davin, Georges-Elie Octors, Ernest Martinez-Izquierdo, …
As an organist, he performs a very varied repertoire in many concerts thoughout Europe, in Canada and in Japan. He has given several master classes and summer courses with special attention to the Livre d'Orgue of Olivier Messiaen.
His recordings include performances as a soloist or a continuo player for both CDs and the Belgian, Canadian and French radios. One of his CDs was awarded the Grand Prix of the Charles Cros Académie du Disque in 1996.
Benoît Mernier is organist of Notre Dame au Sablon in Brussels.
He was composer-in-residence with the Centre for Fine Arts of Brussels in 2002-2003 and with the Carinthischer Sommer 2004 (Austria). Benoît Mernier wrote the compulsory work for singing session of the Queen Elisabeth International Music Competion in 2004. In 2008, he was artist-in-residence with the Festival de Wallonie where is first piano concerto is created by the Liège Philharmonic Orchestra conducted by Pascal Rophé and Cédric Tiberghien as soloist.
His first opera « Frühlings Erwachen » was commissioned by the Théâtre Royal de la Monnaie (Brussels) (World premiere : Brussels : March 2007- French premiere : Opéra du Rhin/Strasbourg : September 2008). His second opera « La dispute » after Marivaux has been performed in March 2013 at La Monnaie (stage production by Karl-Ernst and Ursel Herrmann with collaboration of Joël Lauwers - Publisher: Durand-Universal Music Publishing Classical). A new version for chamber orchestra of « Frühlings Erwachen »  will be performed during 2015 by International Academy Opera and Spectra (conductor: Filip Rathé - staging director: Guy Joosten).
He has been awarded a commission jointly by The Koussevitzky Music Foundation and by the Pro Arte Quartet to compose a new work whose first performance took place in March 2014. The work will be recorded in May 2015.
The premiere of his new violin concerto composed for  Lorenzo Gatto and the National Orchestra of Belgium conducted by Andrey Boreyko took place in February 2015. That work is commissioned by the National Orchestra of Belgium to commemorate the First World  War.
The recording of Pange Lingua for organ, will be soon released by the German record label Aeolus. His two concertos are also featured in several CDs released on the Cypres label (www.cypres-records.com), one of them having won the Snepvangers Prize awarded in 2001 by the Belgian Musical Press Union and the CD/DVD of his opera is awarded "Diapason d'Or". 
He is currently writing a piece for the Choraline, the Monnaie's children's choir with the Monnaie's Orchestra, as well as a work for the newly restored organ of the Palais des Beaux-Arts in Brussels. 
Benoît Mernier lives in Brussels. He teaches improvisation and organ at the Institut supérieur de Musique et de Pédagogie in Namur.
Since 2007, he is member of Royal Academy of Belgium (Fine Arts section.