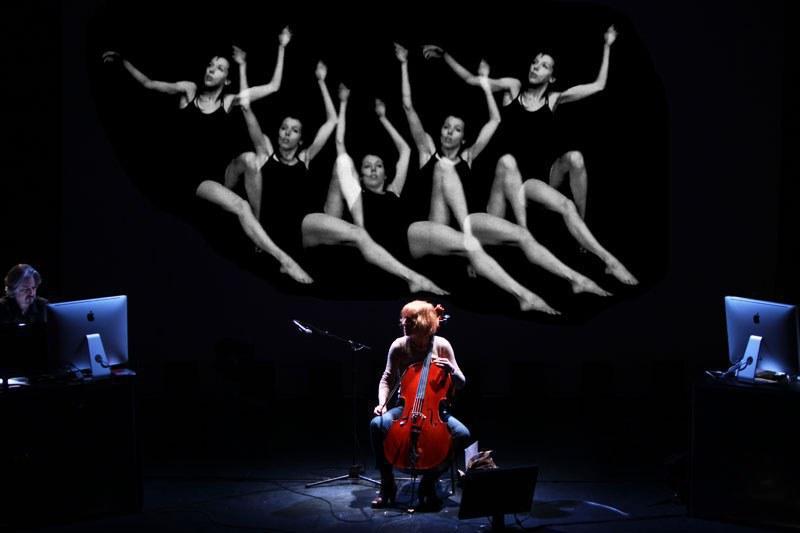 eVanescens is an interactive audiovisual performance, a journey through different states, at the moving border between the real world and dream worlds.
Musician Todor Todor Todoroff and video artist Laura Colmenares Guerra explore hybrid, singular and disturbing territories in this work. With cellist Sigrid Vandenbogaerde, they perform live the acoustic, electroacoustic and videographic parts.
The cellist wears a set of inertial sensors on her chest, arms and hands. Each of these sensors contains an accelerometer, a gyroscope and a 3-axis magnetometer to monitor its movements.
These sensors are associated with cello sound analysis techniques (extraction of frequency, envelope, harmonic content, etc.) and gestural interfaces manipulated by the other two performers to control, in real time, the programs that transform, (re)synthesize and multiply sound and image. Combined, they increase the expressive possibilities of the instruments, make it possible to define new musical gestures and offer new writing techniques.
At the crossroads of acoustic sound and its multiple metamorphoses, in an intimate dialogue with the video image, eVanescens takes the viewer into an uncertain universe, between disturbing strangeness, lightness and an impression of weightlessness.
Interpreters :
Todor Todoroff, composition, sensors and sound interactions
Laura Colmenares Guerra, video creation and interaction
Sigrid Vandenbogaerde, cello creation, voice
Eva Giolo, video interpretation, replacing Laura Colmenares Guerra
Production: ARTeM asbl asbl

Translated with www.DeepL.com/Translator
Lieu
Address
Chaussée de Wavre, 366