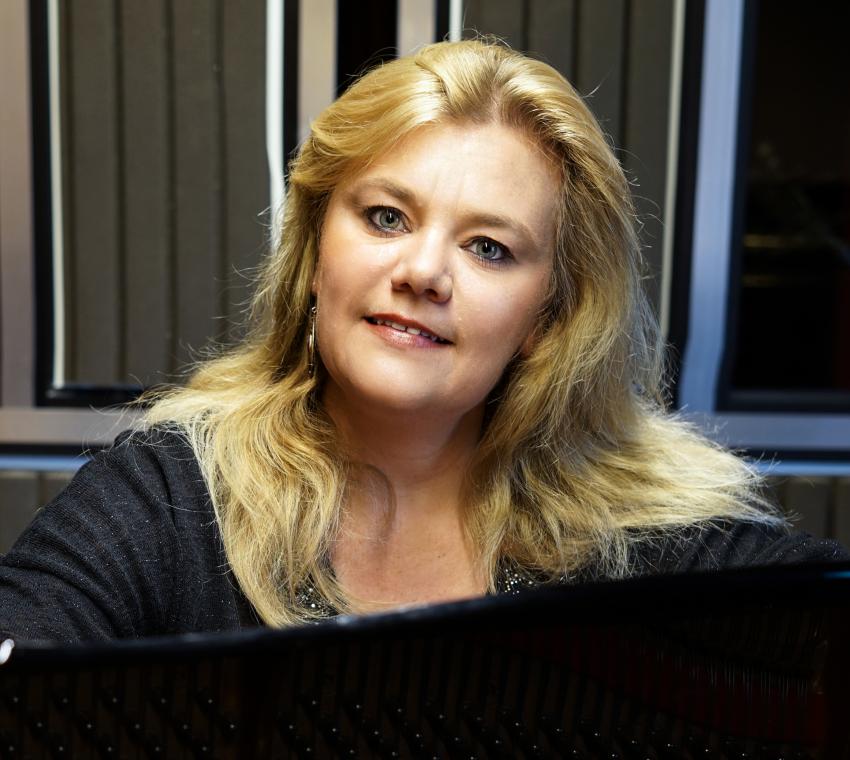 Line Adam, born in Belgium in 1972, decides to learn flute at the age of 5.
She makes brilliant musical studies while attending school and at the age of 11 she wins the popular
TV contest "Young soloists" (as flutist) that will project her to the front scene. She then wins
multiple contests and gives numerous concerts as soloist with various orchestras.
Later she achieves a piano diploma, studies organ and gives up college to enter the music
conservatory.
She obtains a first prize for flute, solfège and chamber music at the conservatory of Liege and later
of Brussels between 1984 and 1988. Meanwhile she meets the world….
She gets acquainted with "French chanson" and popular music and she performs in mythical places,
including the "Olympia", the "Casino de Paris"… and meets with jazz, rock and world music. She
learns to improvise, escaping from the classic style of her studies.
At 16 years old, Line Adam is longing for harmony and composing, particularly for orchestras.
Alongside her career of flutist and pianist she studies orchestral conducting and becomes arranger
and composer.
She is attracted by film music that gives a big part to orchestral music and allows the composer to
move out of "conventional" music styles.
These days Line Adam has composed the music of many films and documentaries for TV channels
in Belgium, France, Switzerland, TV5 Europe, B.B.C …
More than 1500 works exist to date from a single instrument to the complete symphonic orchestra.
She composes for several French and Belgian groups: Quartz,Trio Krokus, Saxacorda, Trio Sempre
etc…
Albums have appeared one after the other: "Northern Flute", "Sculptures", "België-Belgium",
"Spices" etc. and recently a successful series of piano solo albums "Winter Facts", "Northern
Piano" etc.
Her work also includes over 20 pieces for theatre and musicals.
Her opera "Sybil et les silhouettes" with which she was finalist of the European contest "Opéraj"
was performed by the Royal Opera of Wallonia in March 2012.
In 2015 her second opera "Fleur de peau" was also created by the Royal Opera of Wallonia.
More information: http://www.lineadam.com