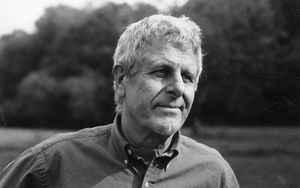 Daniel Schell is passionate about math and music. (Schellekens 1944). Civil Engineer (ULB) then Operational Research/Applied Mathematics (London School of Economics).  Music at the academies of Ixelles, guitar with Olivier Morand, flute with Octave Grillard. Harmony and higher solfège in Uccle, then studies with André Vandernoot and Ronald Zolman.  Indian music with Ashok Pathak, Dhruba Ghosh, Harsh Wardhan, Pandit Jasraj and many masters.
Operas
Operas: since his meeting with Amélie Nothomb he has written "Hygiène de l'Assassin" (premiered in Brussels in 1995, then Opéra Royal de Wallonie, February 2000) and "Les Combustibles" (Paris, 1997) and finally "Le Sabotage Amoureux" (Opéra Royal de Wallonie, 2006). Neige de Soleil' on poems and graphics by Christian Dotremont, created by Gregory Decerf, baritone, and Quatuor Tana, 2016, for Théâtre Poème and Ars Musica.
In preparation: 'Les contes de l'Arbre Roi', the myths of the forest, booklet in collaboration with Jean-Claude Servais. Friday/Vrijdag' from the play by Hugo Claus. Der Neue Mensch' about Otto Freundlich. Dharma in Big Sur' on Jack Kerouac.
Compositions
Recent compositions. Bavari' String Quartet, co-written with Pandit Jasraj, premiere January 2014, Tana Quartet. 3 Brani for the Harmonia Trio, Wind Quintet 'L'art d'assis', Piano Sonata for Alessandra Garossi, Vocal Quintet 'Funtana', Violin Sonata 'Cecilia Affasciniata'. "Caro Trio Improvisatore for Clarinet" (created by Emmanuel Suys at the 1997 Festival "Gestes et Musique" France Musique.) "le Chant du San Serafino" for Soprano & Quintet on text by Pascale Tison (cr 1998, Ensemble Kadeleis, Botanique) "Caro Trio Improvisatore for flute" created by Ariane de Bièvre.
The travelling musician' Brass Quintet for "Brass in the five" Ensemble, conducted by Gergely Vajda, Budapest, 2000. Optimal music' for various ensembles (Ed. Simonffy, Budapest).  Gira Girasole" The art of variation, Karo Ensemble soloists Zoltan Lantos (rape), Isabella di Venosa (voc) Damiano Puliti (cello) European Music Festival, 2001. "Oratorio Ishango" (created 2002) for the Choir of Namur, percussionist Chris Joris and his African musicians and percussionists. Directed by Denis Menier, on texts by Lokenath Bhattacharya (Bengal), Frederic Tittinga Pacere (Burkina faso), Chirikure (Zimbabwe), Gcina Mhlope (South Africa). Revival in 2016 with Barbara Hendrickx. /// L'Aile Perdue trio for tape-guitar, O.Verschueren ( tg ), E.Suys ( cl ), A.Charbonnel ( cel ). /// Melodies 'Se amando troppo' (2000-2013) on poems by Dacia Maraini, for Chiara de Palo (sop)//// 'Bawari' in collaboration with Pandit Jasraj for Tana String Quartet (2013)/// 'Les Belles Endormies' for tape-guitar and bansuri 2016. In preparation 'Concerto for Tap-Guitar and Orchestra'.
Ensembles
Daniel founded the Cos Group at the end of the 1970s. Successively "Postaeolian train robbery" (republished internationally), "Viva Boma" (EMI) republished by Musea, France. Then "Babel", "Swiss Chalet" and finally "Pasiones" an opera that was performed about a hundred times. Among the soloists: Pascale Son, Ilona Chale, Charles Loos, Pierre Van Dormael, N. Fiszman, P. Allaert and others.
He also collaborated with Dick Annegarn on 'Egmont', an impression of Dutch music.
Since 1990 he founded the Ensemble Karo, (soloists P. Narcisse, D. Descheemaeker, Jan Kuijken J.L.Plouvier, J.L.Manderlier), an electro-acoustic group with which he recorded "If Windows they have" and "The Secret of Bwlch", Crammed Discs. Also "Gira Girasole" for Materiali Sonori, San Giovani Val d'Arno contains variations on popular themes from Italy. Recently he has concentrated on a reduced formula: the Karo Trio in which he invites musicians such as Ariane De Bièvre, Fabrice de Graef, Sandip Banerjee, Pierre Narcisse or Carlo Strazzante, to practice a half-read, half-improvised music.
Optimal Music and Theory Math-Music
His personal language leads him to combine mathematics and harmony in the form of "tiles", a kind of optimal and geometric paving. This process which intervenes for example in the creation of harmony, or in the transformation of traditional melodies (Italy, India, Gregorian chant), has dominated his recent work. In 2002, EURO, the European Society for Operational Research, commissioned him to create a series of works intended to illustrate optimality in music. These works, including the wind quintet 'The Travelling Musician' and 'Optimal studies', were premiered in Budapest.
Musical theater:
The 'Buried Flees' sextet for tiptare, clarinet, cello, horn, synthesizer, percussion. With musical scenes. Direction: Ken Ichi Nagakawa.
L'Arbre Roi' on text and images by Jean-Claude Servais. Some pieces were created for the City of Rambouillet, with the Ensemble du Conservatoire de Mons.

Cinema : music of "Het Gezin Van Paemel" by Paul Cammermans-Hugo Claus- prod. Jan Van Raemdonck , "Papegaai" by Hans Hilkema, "le monde de Ludovic" by Jean-Pierre De Decker.  "Ionesco" by Thierry Zeno, "Lions" by Justin Cartwright (BBC).
Silent Movies: Daniel accompanies silent films, mainly surrealist, by Henri Storck, Henri d'Ursel, Ernst Moerman, Charles Dekeukeleire. These performances have been performed in different museums such as Bozar, Musée d'Orsay, Beaubourg...
In 2007 he wrote the Arrangement of Paganini's Concerto for the Royal Guides' Harmony, soloist Lorenzo Gatto, and produced and arranged numerous recordings of operas (Bellini, Verdi, Rossini, Mozart) and symphonies (Mendelsohn, Delibes...).
Dance
Avi Kaiser "Le départ de Marseille"(1992) commissioned by the Stadttheater Remscheid.
Tape-guitar
The instrument played by Daniel Schell is a tape guitar, or tiptare. This instrument, which comes from the fingertip tapped guitar, has been developed since the 50's in the USA. Then it was developed in California in the 1970s by Emmett Chapman whom Schell met and with whom he took his first steps. It is an electronically amplified instrument. The neck is similar to that of a guitar, however the strings are tapped with the fingertips and not plucked. In this way both hands can act and are independent.  There are 6 melody strings and 6 bass or accompaniment strings. For this instrument Daniel wrote the method 'Mon Espace, Mon Temps' and the collection of studies 'Le Sentier'.
Daniel Schell created the "European E-Tape Guitar Seminar", a place of teaching and creation for students from all over Europe. The most important names came to join him: Wolfgang Daiss who now interprets his important compositions. As well as F. Jolliffe, K. Wagner, Jim Lampi, M. Reuter, T. Rockwell, Jim Wright, R. Strom, Kay Kurosawa and others. After adopting methods from classical instruments - piano, guitar, cello - Daniel gradually realized that much could be learned from a thorough study of the classical music of India.
The Sangit Academy of Indian Music
With Pierre Narcisse and Swami Dyanabjanada, he founded the Sangit Academy of Classical Music of India in 1992. There he studied, among other things, the patterns of independence of hands in tablas. He studied various techniques with Ashôk Pâthak for sitar, Dhruba Ghosh for solfège and ornamentation. On the strength of this experience, Daniel writes 'Pratique de la Musique Indienne'. Many masters (including Pandit Jasraj, Rita Ganguli, Subroto Roy Chowdury, Ronu Majumdar, Kala Ramnath, Harsh Wardan, Purbayan Chatterjee) visit the Academy regularly. Daniel has accompanied Ashok Pathak, Rita Ganguli, Shaila Piplapure, Sangeeta Bandyopadhyay and Gauri Guha in concert.  Finally, he plays regularly with Sandip Banerjee, with whom he wrote a method "Le tabla". With Harsh Wardhan 'Le Bansuri'. The Jasraj Songbook' with Pandit Jasraj, 'The violin' with Indrayudh Bose, and others. He has been invited to tour India several times by the Indian Council of Cultural Relationship.