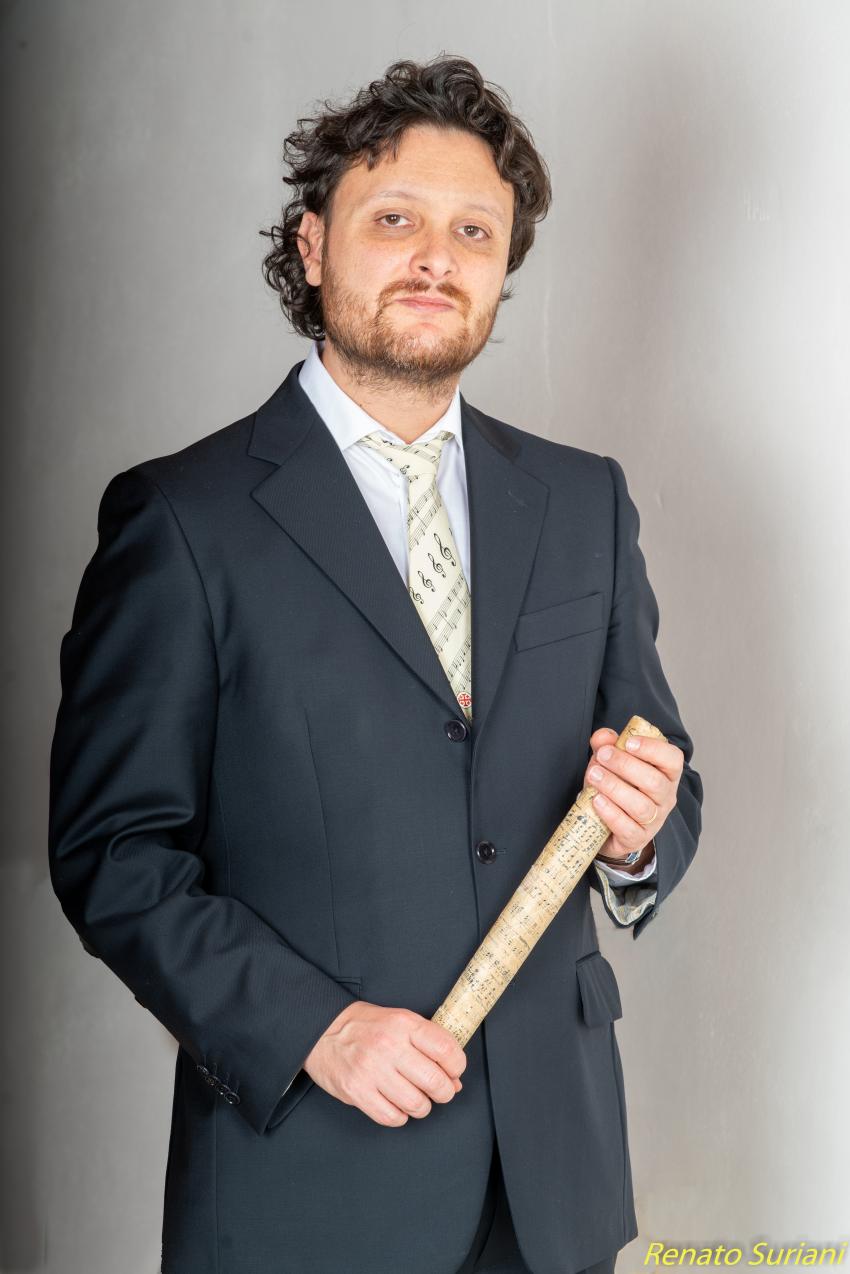 Born in Ortona, Italy, he obtained his Diploma with honors at the Pescara Conservatory and at the Accademia Pianistica delle Marche (I), afterwards studying chamber music at the well-known Accademia Pianistica "Incontri col Maestro" in Imola (I) with Piernarciso Masi and pianoforte with Leslie Howard (London, UK), Luciano Cerroni (Roma, I) and Sébastien Risler (Genève,CH).
He has performed as a soloist and in duo in various concerts arranged in Italy, Switzerland, United Kingdom, Denmark, Luxembourg, Belgium, Poland, France and Germany. He has performed as a soloist with the Camerata Gigli orchestra (I), Angissimo and Orchestre Symphonique d'Anjou (F), Orchestre de l'Université d'Angers (F), and he has collaborated with the National Tosti Institute, with the 'Tosti Ensemble', with spanish tenore Joaquin Pixan, with the <M&M> Orchestra, Bacau Philarmonia Orchestra (Romania).
He has received a host of awards:  "Logos Honorary Award" (2010), "AAAI Best Video Award", recipient of the scholarship by the International Wagner Foundation in Bayreuth and "Creativity on the piano" prize (2015), "Mameli Prize" (2017), etc.
As a pianist he has recorded 4 CDs: one dedicated to popular music from his region (Edizioni Menabò, 2010), one dedicated to operatic piano transcriptions (Opera Sessions, Andromeda Editions, 2013), one to futurism and artificial intelligence (Logos Session, Logos Productions, 2015) and one devoted to the music of Flemish composer Philippe Wesemael (2016)
Giacomo di Tollo is a pianist and conductor from Ortona (I), where his family has been devoted to music since three generation, and where he is grown up in the tradition of Bellini and Tosti. As a conductor, he has conducted the Brussels Symphony Orchestra (B), Munchener Quintenzirkel (D), Orchestre symphonique d'Anjou, Orchestre César Frank (F), l'Orchestra da camera di Padova, l'Orchestra Filarmonica Giovanile d'Abruzzo, the "Piccolo Complesso da Camera" and the "Carlo Sanvitale" chamber ensemble, with which he has produced a CD dedicated to the music of Italian composer Elena Maiullari, published by MAP Editions.  
He is a national councillor of the Associazione Nazionale Veterani e Reduci Garibaldini (ANVRG), and in this capacity has launched a project of collective composition on the anthem of Mameli*, which was presented at the Embassy of Italy in Belgium during the "Festa della Repubblica" (2019), and has so far collected adhesions from around the world.
'Perfect technique' ***** (Heilbronner Stimme). 
'Solid and refined pianist' ***** (Gazzetta Regionale). 
"Like falling in love with classical music? Simple: just start by listening to Giacomo di Tollo's music and let yourself be carried away" ***** (L'Aurora).
"Giacomo caresses the keys" ***** (Taste of Italy)