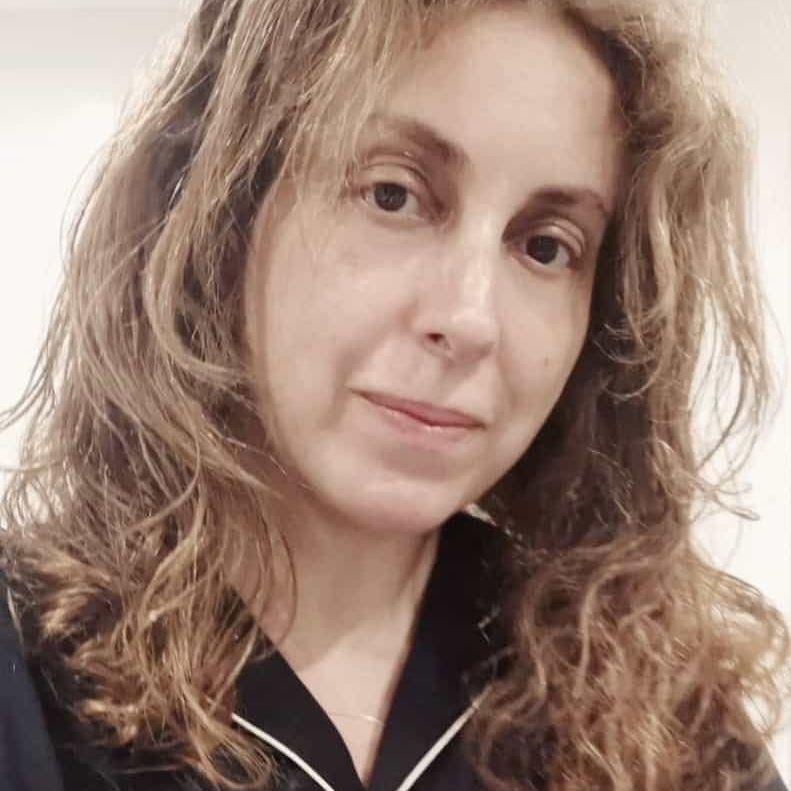 Composer and improviser of Spanish origin living in Belgium.
My artistic path is marked by encounters that have deeply guided me in my vision and my journey.
I trained at the Conservatory of Madrid as a piano accompanist. In my youth I was strongly encouraged to study composition by my harmony teacher Mercedes Zavala Gironés. Mrs. Zavala introduced me to music written by women and to contemporary music. I was invited by Mrs. Zavala to participate in a forum in Santiago de Compostela and in Colombia and by Mrs. Susan Campos Fonseca to present my music and talk about my experience as a composer in a world where the voice of women is still not heard enough.
In Belgium I met Mario Mary and Annette Vandegorne who introduced me to acousmatic music. A short stay in Paris made me meet the composers José Manuel Lopez Lopez and Horacio Vaggione. I discovered models in acousmatic music that can be applied to instrumental music and later to mixed music.
In 2016 I am honored as the Laureate of the first prize in mixed composition for solo instrument and electroacoustic device "Sampo".
Two creations take place in Bourges in 2017 in close collaboration with the clarinetist and composer Ivan Solano.
page1image9963392
- Lamento Avant L'oublie : https://www.youtube.com/watch?v=hRRnST5X8qA
- Water Drops II : https://www.youtube.com/watch?v=iVFk-AYmTf8
page1image9968960
In Belgium I also met composers Peter Swinnen, Franklin Gyselynck, Jan Van Landeghem, Claude Ledoux, Wim Hendrickx and Luc Van Hove who strongly encouraged my studies in the field of music writing and composition. I had some opportunities to develop my hand as an orchestrator and I am very grateful for that.
https://youtu.be/DO2NgTGMOGM
https://studio.youtube.com/video/IS2X2DCc5vE/edit
I also had the pleasure of participating in the "Ceme" Festival in Tel Aviv and attending Master classes with Frank Bedrossian in 2019. My duet piece "Alto" ( Anat Nazarathy and Noa Mick) was performed in this festival.
https://studio.youtube.com/video/Y66spAn3pPs/edit
page1image9968384 page1image9975296 page1image9967232
Another new voice will open in my way through musical improvisation and the harp. I begin to follow improvisation courses and later on Master studies with Emilio Molina (Reina Sofia Superior School and IEM Methodology) and Abigail Prat-i-Gil (Liceu in Barcelona). I discovered Soundpainting with Carles Marigo in Salamanca and later with Walter Thompson in Paris. I am very attracted by jazz and I took courses with Mario Quiñones and Ernesto Larcher.
I played with Fred Frith and Joëlle Lénadre at the Mixtur Festival in Barcelona. With Alba Morin and Mariana Carvalho in the trio "Parcas" and at the Madeira Festival invited by Patricia Alessandrini with the quartet "Santoor".
https://soundcloud.com/luisa-maria-alvarez-armesto/improvisation-au-festival-de-
madere-santoor-quartet-2018
https://www.youtube.com/watch?v=e5nL4lDZ_HY https://studio.youtube.com/video/1ifzSyQwI0A/edit
I must thank Doina Rotaru and Alessandra Rombola too. I met these two wonderful women in the "ESCAPE" Festival in Romania and I had the opportunity to perform in Bucharest my play entitled "152" which is dedicated to my mother who passed away in 2017.
Currently I am more interested in early music. I was very impressed by the meeting with the "partimentisto" (master of the partimento) and harpsichord genius Ewald Demeyere as well as the harpists Nuria Llopis and Manuel Vilas.
I play in an improvisational duo with the composer Cornelia Zambila. https://www.youtube.com/watch?v=mw6g6_3znoE https://www.youtube.com/watch?v=IwblZhJChNg
I recently participated in a composition project to create bridges between contemporary and early music. This project was organized by Cornelia Zambila and her husband Juan Marco Albarracin.
https://www.youtube.com/watch?v=Qdp4p_UJQM8
https://www.youtube.com/watch?v=A0etp7EfBko
https://www.youtube.com/watch?v=Fi52tG7Te_U
Almost all my music has an autobiographical link or a link with spirituality and the expression of humanistic values. In my adolescence I needed to write texts and poems, to dance and to paint. I feel a very strong link with Pauline Oliveiros and I started to write "Game pieces" to explore this universe where the notation gives place to the almost total freedom of the interpreters.