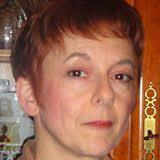 She studied the piano and chamber music at the music school of Nivelles, Louis Robert, thanks to whom she discovered contemporary musics. As she wished to beneficiate from a college formation, she studied musicology at the Université Libre de Bruxelles, then, in 1981, she got a diploma of thorough studies at the Université de Strasbourg II under the guidance of Marc Honegger. He gave her the responsability of lectures on the musical analysis of Boulez's Le Marteau Sans Maître.During the following years, Honegger entrusted her with the update of notices about contemporary music, intended for the rééditions of1986 and 1993 of theDictionnaire de la musique - Leshommes et leurs oeuvres, that he was directing in Bordas. Meanwhile, he offered her to write 50 notices about vocal contemporary works for the Dictionnaire uvres de l'art vocal, the original publishing of which came out by Bordas in 1991.
However, musical composition was attracting her more and more. She came back to Belgium and she began a full curriculum in the royalConservatories of Brussels, then of Liège, while she was teaching in secondary schools and in music schools (1984 to 1989). She studied the piano for two years with Sonia Anschütz and she got the first prizes of music theory, musical analysis and harmony, as well as the diploma of ability to music theory teaching.

Unsatisfied with her musical productions based on serial techniques, she turned for a while to literature, which is her second passion, and whe wrote several tales together with a novel, while she was working in a library. Most of her musical works go back to this time too. She also won the bronze medal in the International literary contest Arts et Lettres de France.
After hearing musical works from Claude Ledoux, she introduced herself to the Royal Conservatory of Mons in 1998 and she worked with that composer for three years, while she was teaching anew in music schools. Her first retained musical works go back to this time. Withher prize of composition, she started to get some orders (from the Ensemble 21 and Musiques Nouvelles). A few years later, she improved her skills by doing a master degree in musical composition with the composer Peter Swinnen, headmaster of the Koninklijke Conservatorium Brussel. With him, she has practised musical composition and musical analysis, as well as the use of the software Open Music. She could also beneficiate from lecturers from composers Franklin Gyselinck (counterpoint, fugue, musical analysis) and Jan van Landeghem (orchestration).
As a composer, she has collaborated with the Ensemble Musiques Nouvelles (order from 2006), the Ensemble 21 (orders from 2003 and 2011), the contest Axion Classics of Dexia (order from 2008) as well as the ensembles Oxalys (2012) and Odysseia (2013).
Her music has been played, among others, by Izumi Okubo, Tomma Paul Zanutel, Emm. Suys, Philippe Saucez, C. Baclin, L. Schneider, as well as by J. Da Silva at the University of Goiás in Brazil and by M. Mimica in Zagreb (Croatia). Her musical works have been scheduled at the Emergence festivals of 2006 and 2007 and at the Loop 4 festival of 2011. Her work called Le rêve de Caliban has been selected by the Forum of the composers (Belgium)
and then by the ISCM World Music Days 2011 of Zagreb.
From 2005 to 2010 she has been lecturer in the Royal Conservatory of Mons (Commented Auditions, Encyclopaedia of Music, Theory of Ancient Music). She has collaborated with the Théâtre Royal de la Monnaie for the presenting of operas. Since 1997, she is professor of History of Music at the Royal Academy of Fine Arts of Brussels. Currently, she is also teaching Writing of Music and Musical Analysis at the music school of Nivelles.