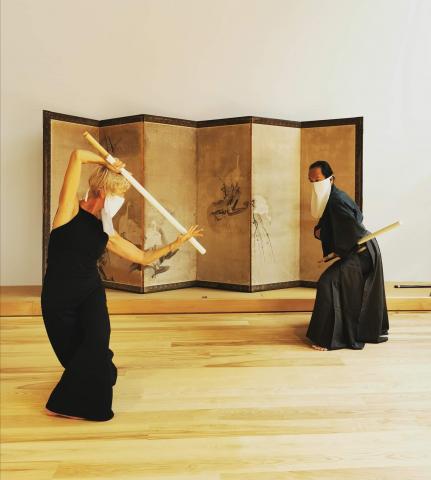 The latest project of the Ensemble Ausonia and Claude Ledoux, will be presented in Liège and Mons, as part of the autumn festivals! 
- On September 24th at the Nuits de Septembre - On September 25th at the Festival Musical du Hainaut - On November 24th in Louvain-la-Neuve (Aula Magna - outside festivals) 
All the info: https://www.lesfestivalsdewallonie.be...
Combattimento is the new creation of the early music ensemble Ausonia. It is also the fruit of the encounter between a master of the Italian madrigal (Claudio Monteverdi) and a modern-day composer (Claude Ledoux); between music, dance and martial arts; between East and West... Il Combattimento di Tancredi e Clorinda evokes, through the fight to the death between the valiant knight Tancredi and the beautiful Clorinda, a passage from the poet Il Tasso's "Jerusalem Delivered". 
Starting with the latter emblematic female figure, Claude Ledoux proposes his own musical epic, Tomoé, whose heroine could be an Onna bugeisha, a samurai woman, a rebellious beauty whose elegant sensuality rivals the handling of the sword. To give body on stage to this mirror battle, six musicians and three solo singers surround a Noh theatre actor, also a sword dancer, and the choreographer and performer Bruna Gondoni, who specialises in the repertoires of the 16th and 17th centuries. With the help of magic technology, the presence of a biwa player, the dedicatee of Claude Ledoux's play, held up in Japan because of the state of the world, will be brought to the stage through the film directed by the video director Isabelle Françaix. 
This Combattimento is intended to be a place for a renewed encounter with the audience, combining dramatic tension and the clash of arms, furious outbursts and self-control, contemporary repertoire and ancient instruments, creation and the heritage of the masters. 
A co-production of the Festivals of Wallonia and Ausonia.